Description
PERSON (PERvasive game for perSOnalized treatment of cognitive and functional deficits associated with chronic and Neurodegenerative diseases) Project
has been realized in partnership with 3 Research Institutes and 4 other companies. It was supported for over 1.6 million euros (in front of a cost over 2.4 million euros) by the Apulia Region, with funds from the European Community.
A diagnostic and therapeutic ICT environment has been developed, based on a pervasive and innovative system, which:
analyzes the phenomenon of neurodegenerative diseases from an epidemiological point of view; li>
makes early diagnosis of neurodegenerative diseases; li>
supports personalized treatment processes, in case of pathological conditions. li>
The developed tool is targeted to older people with moderate or medium cognitive decline, and supplies an experiential and immersive experience, linked to real-life situations where interaction with the user occurs through gestures, recovered and reconstructed through an artificial vision set up that avoids the use of input devices that are not familiar to the patients (mouse, joystick …).
Read more, surfing on www.progettoperson.it.
Demo video
Click on the monitor to watch a demo video.
Texts are in Italian, but You can turn on sliding captions in English, by clicking the captions icon at the bottom right of the window.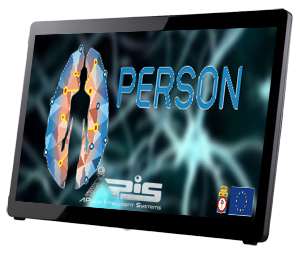 Documents
Click on the icons to see the technical deliverables (in Italian) produced during the project.