Description
3DLab is a software platform for perform interferometric three-dimensional reconstructions. The platform includes, in a integrated GUI, a number of features including:
correction of optical distortions;
set the acquisition parameters of the camera;
remote monitoring (via serial port) and control of the fringe projectors;
remote control of the set-up geometry;
both the working modalities of "off-line" (to reconstruct the 3D meshes from images or recorded video) and "on-line" (to reconstruct the 3D mesh processing directly the frames as soon as they are captured by a camera);
both the working modalities on pairs of images and on single image (stereo illuminated);
possibility of expanding the frequency resolution by interpolation;
large configurability of the filters in the frequency domain ("elliptical", "rectangular" and "contour" shapes);
design of the filter attenuation profile;
high level of automation in detecting and centering the modal peaks.
These aspects, which give the system a high level of configurability, make 3DLab ideal not only for industrial applications but also for applied research contexts: in research activities, to tune the set-up defining the optimal ones, as well as configure the different parameters and the filtering types are strategic issues.
Demo video
Click on the monitor to watch a demo video.
Texts are in Italian, but You can turn on sliding captions in English, by clicking the captions icon at the bottom right of the window.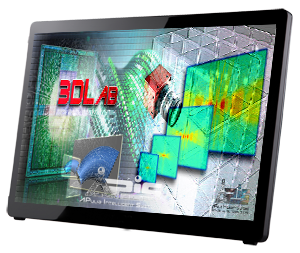 Documents
Click on the icon to see the user guide (in Italian), version 3.0