Description
DISS – Diagnostics for Solar Systems is the new frontier for the thermographic diagnostics of photovoltaic modules. It has been reached after years of research and development, under the supervision of Prof. Silvano Vergura (Professor of Electrical Systems @ Politecnico di Bari), in which several methods of analysis were conceived, designed, implemented and tested, until their optimization and synthesis in a diagnostic protocol. Today, this protocol is automated and available to any O&M operators through the service www.diss.cloud, that thanks to the cloud computing, while not asking user either installations or updates, guarantees the enjoyment both of the necessary computational power (even on a tablet) and the always-updated versions of the software.
Each operator, interacting for about 1 minute with the DiSS automation, can offer its customers a diagnostic report
detailed
exclusive
customizable
multilingual
highly professional
In fact, 1 minute is just the time necessary for the operator to:
load the IR image of the PV module (regardless how it has been acquired, by drone or by hand)
let it automatically analyze by DiSS
quickly draw up the prescriptions, supported by the "health dashboard"
download the diagnostic report in PDF format.
Despite these features make DiSS a product without competitors on the market, it is offered with a consumption-based pricing from only 0.99 EUR/report, without registration fee and providing the user with free trials.
More in detail, once the IR image has been uploaded, DiSS produces and collects in a PDF downloadable file:
an automatic analysis of each individual cell
an automatic analysis of groups of cells having similar temperatures
a "health dashboard", which supports the user in writing his prescriptions and scheduling the next inspection.
Finally, among the functions of DiSS, the following ones are also encompassed:
a manual analysis (that can be inserted in the PDF report) by means of classical tools, like those provided by the "on the shelf" software
a "saving" functionality, that allows to store the data edited during an elaboration (e.g., environmental parameters, customer, technician, instruments data and others) for allowing their use as default in other elaborations
a "report configuration" panel in which the user can select only those sections he wants insert.
Demo video
Click on the monitor to watch a demo video.
Texts are in Italian, but You can turn on sliding captions in English, by clicking the captions icon at the bottom right of the window.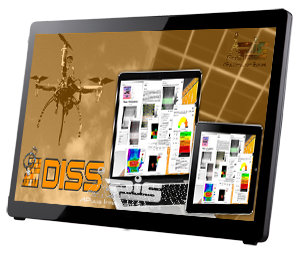 Documents